BUILDING A SUCCESSFUL MEMBERSHIP WEBSITE JUST GOT EASIER…
YOU'RE JUST SECONDS AWAY FROM THE ESSENTIAL TRAINING, ADVICE & SUPPORT YOU NEED TO PLAN, CREATE & GROW A PROFITABLE, MEANINGFUL MEMBERSHIP
STOP US IF ANY OF THIS SOUNDS FAMILIAR…
You have a great idea for a membership site, but don't know where to startand how to turn that into an actionable plan…

You've spent countless hours trying to build your membership website, and you're sick of the frustration of wrestling with code & battling tech gremlins…

Your membership site is up and running but it's not going as well as you'd like, and you're out of ideas for how to attract (and keep) members…

You're struggling to stay on top of the seemingly endless list of tasks you need to handle, and you're not enjoying running your membership

If it does, then you already know what a minefield it can be trying to get quality advice & support
THAT'S WHAT INSPIRED US TO BUILD THIS PLACE
We were fed up with hearing stories about good people with a great idea, just like you, being left stuck and let down in their pursuit of membership site success, thanks to:

Sleazy Internet Marketers who promise the world but deliver very little once they have their hands on your cash…

Overly technical tutorials that bore you to death with the mind-numbing mechanics of building a membership site, and don't say a thing about strategy or marketing…

Over-priced courses that make big claims about helping you be successful… just as long as you already have a huge email list and a massive advertising budget…

Thankfully, all of that is behind you…
Introducing the Membership Academy
The Academy is the leading training community for membership site owners.

It's a membership about memberships!

And it's packed with in-depth, practical training and resources on all aspects of planning, building, running and growing a successful membership website.

PLUS the community support you need to ensure your membership achieves its full potential.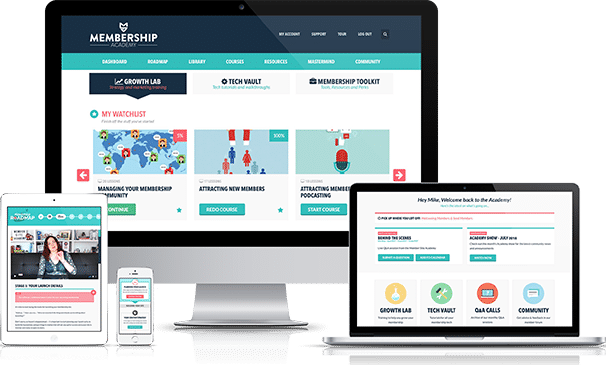 THE ACADEMY WILL HELP YOU TO:
Build a business you love, that generates predictable, recurring income and finally gives you the freedom and lifestyle you want
Attract more membersand keep them engaged and involved in your site, so that they stick around and continue paying for longer
Finally get to grips with the technical side of building and managing your membership site – saving you hours of frustration
Eliminate the guessworkand stop throwing stuff at the wall and hoping something sticks by giving you a step by step roadmap to follow
Tap into the collective knowledge & experienceof a community of membership site owners and experts who are there to support each other
Become infinitely better at managing your membership on a day to day basis, so that you have way more time and far less stress
WHAT MAKES MEMBERSHIP ACADEMY DIFFERENT?
ACCESS TO EXPERTISE
Tap into our 20+ years experience in the industry and a proven track record of driving the growth of numerous 6 and 7 figure memberships across a broad range of markets.
WE WALK THE TALK
Where others teach unproven theory or rely on outdated experience – we're successful membership owners ourselves, we're in the trenches with our fingers firmly on the pulse
PEER SUPPORT
With over 2000 members – all fellow membership owners – the Academy community is there 24/7 to answer all your questions and provide feedback and support
LOOK OVER OUR SHOULDER
Members tell us they learn a lot from watching us 'do our thing' – the Academy is a living 'case study', and we're transparent in showing behind the scenes of our own business.
NO B.S. ALLOWED
We're not into overblown hype, marketing tricks or jumping on the latest shiny bandwagon. Just straight-talking, honest, proven and practical advice. No B.S., no tricks, no 'get rich quick's!
OUR FULL COMMITMENT
We eat, sleep and breathe membership sites. The Academy is our 100% focus and we love helping our members achieve success. It's all we do, and we're not going anywhere!